Pokemon Unite will arrive on the Nintendo Switch in July and mobile phones in September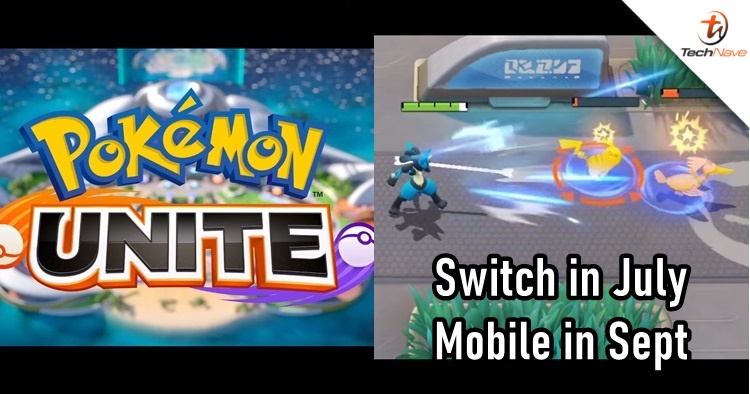 Just a few hours ago, The Pokemon Company finally made an update announcement about Pokemon Unite. To refresh your memory, Pokemon Unite is an upcoming MOBA game that will be releasing on the Nintendo Switch, iOS and Android pretty soon.
How soon? Well, Pokemon Unite will arrive on the Nintendo Switch first in July whereas the mobile phones will have it in September. It will also be a free-to-play video game and since it was co-developed by TiMi Studios, who was responsible for Call of Duty: Mobile, Arena of Valor and others, we think there's a good chance of in-game items for players to purchase such as skins. 
From the new trailer, it seems that there is a wide range of Pokemon that you can use. This includes fan favourites Pikachu, Lucario, Snorlax, Greninja, and Garchomp, as well as Absol, Raboot, Slowbro, Talonflame, Mr Mime and many more. Although it's a MOBA game, the functions are a bit different as it encourages players to catch Pokemon critters in the tall grass area or beat their opponents in order to evolve. The Pokemon Company provided more details about the game below:
"Unite Battles are where Trainers and their partner Pokémon compete in 5-on-5 team battles. The key to victory in a Unite Battle is to have a higher score than the other team when time runs out. To earn points for your team, you must gather Aeos energy by defeating wild and opposing Pokémon and then deposit that energy in one of the opposing team's goal zones. Unite Battles take place in various stadiums, and the rules for each stadium differ. There can be different numbers of team members, different match lengths, and even different Legendary Pokémon that appear."
By the way, players on the Nintendo Switch and mobile phones will be able to play together via cross-platform. Are you looking forward to trying it out? Let us know in the comments below and stay tuned for more trending tech news at TechNave.com.