New South Haven Senior Center Could Be Open By Thanksgiving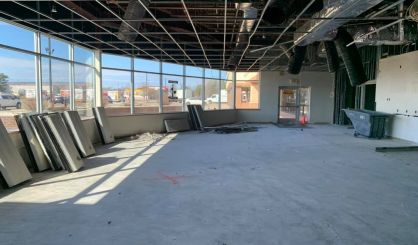 The former Village Market store in South Haven won't stand vacant thanks to plans from Senior Services of Van Buren County to turn it into a senior center. Director Diane Rigozzi tells WSJM News Senior Services was able to buy the $2.5 million building for $400,000 from the Murk family, amounting to a more than $2 million donation from the Murks. She says turning a grocery store into a senior center isn't as difficult as you might imagine.
"Because a grocery store doesn't have a lot of walls and internal structure, it was kind of a blank slate," Rigozzi said. "So we're just tearing down a few minor areas, and now we're in the process of starting to build new walls."
Also, the fact that it's all on one floor helps. Rigozzi says they plan to have pickleball, a cafe, classrooms, a computer lab, a gym, a walking trail, and a medical equipment lending closet. There's also a pharmacy and a salon that are going to be leasing space from Senior Services of Van Buren County. She hopes the property can be used by the whole community.
"We just really want it to be a perk for South Haven so when people move to the South Haven area, they see this and say, 'Wow, this is a great place to retire, this is a great place to live,' and that it just offers a lot to the community."
Rigozzi says there will be a fundraising campaign to cover the $2.5 million cost of the new facility, which will be the largest senior center in Van Buren County. She hopes the place can be ready to be open to the public by Thanksgiving.