MSU welcomes high school students from rural districts for advanced physics, computer science program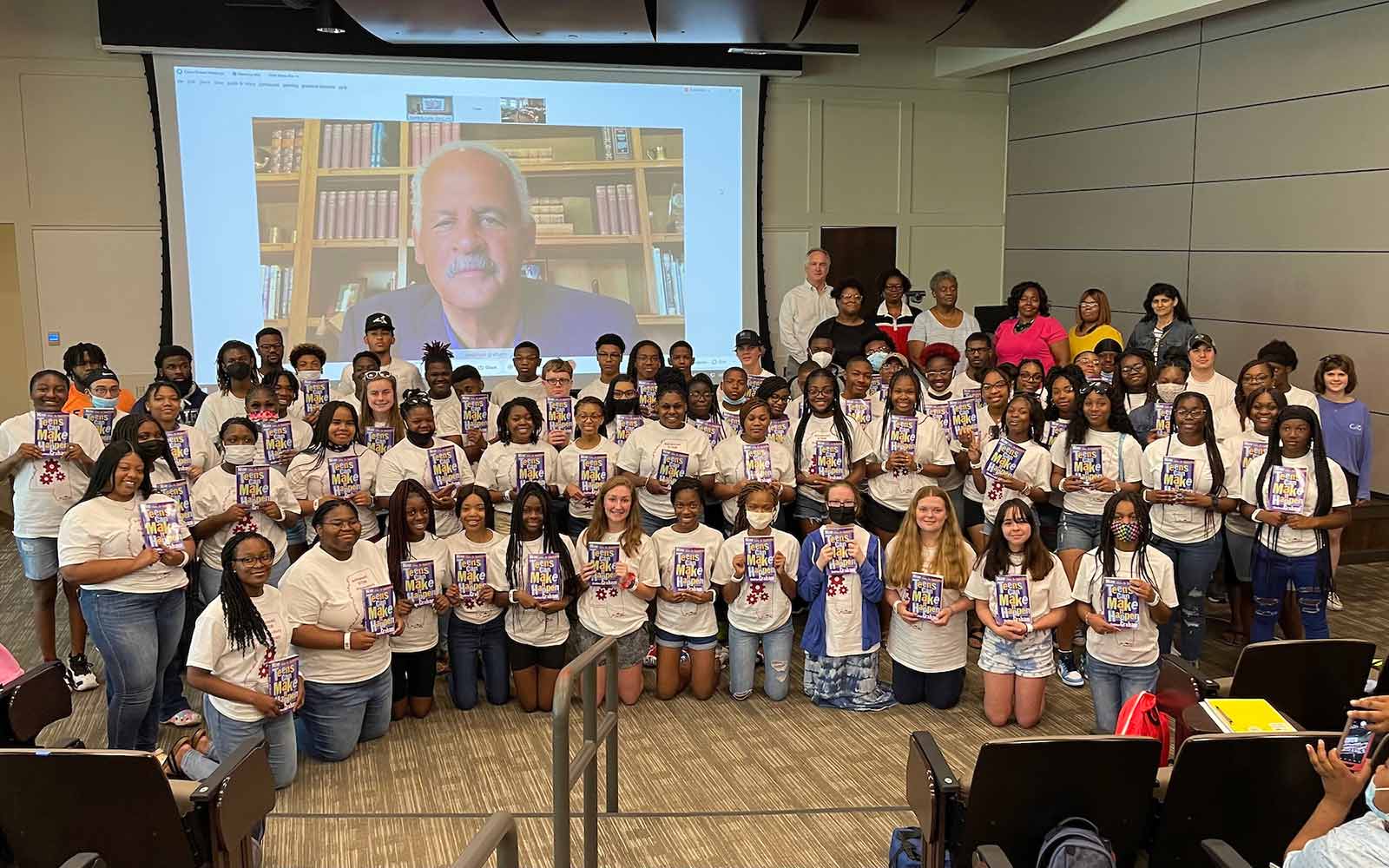 Contact: Allison Matthews
STARKVILLE, Miss.—Nearly 100 promising Mississippi high school students from 13 rural districts are finishing their second week of the Advanced STEM Summer Preparatory Program at Mississippi State University to prepare for success in rigorous, advanced placement coursework this coming academic year.
Along with learning STEM (science, technology, engineering and math) skills to help them in upcoming AP classes in physics and computer science at their respective schools, students are hearing from successful mentors encouraging them to apply practical strategies for growth as they advance toward academic, personal and professional goals.
Stedman Graham, a New York Times best-selling author and national speaker who teaches a nine-step success program called "Identity Leadership," shared advice with the group this week and engaged with students extensively during a question-and-answer session following his talk.
"The beautiful thing about all of you is that you all have potential," said Graham, who also emphasized that the process of success is the same for everybody. The educator and businessman, also known for his longtime relationship with Oprah Winfrey, underscored the importance of creating a vision and writing down goals, utilizing time effectively, and organizing a plan of action. "Success is all about preparation," he said.
The privately funded program, which also has received a competitive federal Education Innovation and Research grant, is facilitated by the Global Teaching Project in conjunction with the Mississippi Public School Consortium for Educational Access. There is no charge to students, families, schools or districts to participate.
Students are involved in classroom instruction and tutoring sessions in an immersive math and science learning environment to develop study skills and other fundamentals. They also take part in hands-on learning activities and experiments, as well as campus tours of research facilities. While on campus, the students attended one of this week's NCAA Super Regional playoff baseball games and enjoyed other recreational activities. Students are selected by participating school districts and identified by their schools as having the aptitude and strong work ethic needed for success in advanced placement courses.
Matt Dolan, founder and CEO of the Global Teaching Project, explained that even very bright students often have gaps in their substantive foundations. 
"COVID disruptions put students even further behind. Our summer program helps fill in those gaps and overcome learning losses so that our students are better prepared for the rigorous STEM courses they will be taking this year," Dolan said.
The Global Teaching Project and Mississippi Public School Consortium for Educational Access also facilitate the AP classes during the school year in the participating rural and low-income districts that otherwise would not provide these courses. By utilizing a "blended" format and a network of AP-certified teachers and additional tutors, the program seeks to increase student enrollment in advanced coursework, particularly in STEM areas, which correlates strongly with college and career success.
MSU has hosted the summer program since its inception five years ago, and students are back on campus this year after the 2020 event was presented virtually due to the pandemic. Once they begin the academic year in their respective schools, they will take AP Physics or AP Computer Science, with supplemental programming throughout the year. Previous evaluations have shown that students achieved dramatic gains in substantive understanding of course content, according to nationally recognized pre- and post-program assessments.
Schools participating this year include Aberdeen, Clarkdale, Greenville, Holmes County Central, Humphreys County, Leflore County, Leland, McAdams, New Albany, Newton, Northeast Lauderdale, O'Bannon, Madison S. Palmer, Riverside, South Pontotoc and Quitman high schools. Dolan said he expects to have approximately 28 schools offering the AP classes through the consortium this coming year, although not all the schools were able to participate in the summer program.
For more on the Global Teaching Project, visit www.globalteachingproject.com.
The Mississippi Public School Consortium for Educational Access can be found at www.educationaccessms.org. 
MSU is Mississippi's leading university, available online at www.msstate.edu.