CovaxSF, designed by 2 Foster City students, tracks vaccine availability in Bay | Local News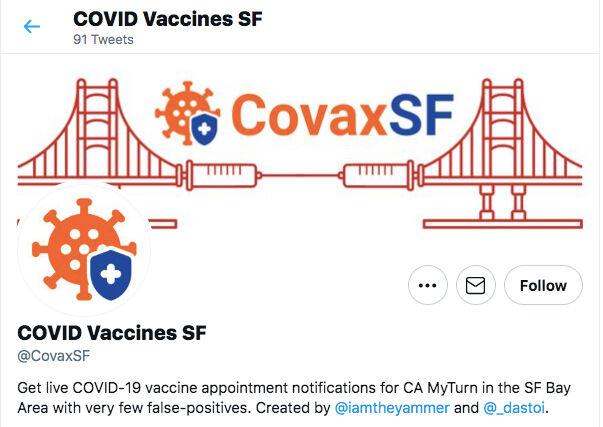 Fed up with the struggles so many Bay Area residents have faced while trying to get appointments for COVID-19 vaccinations, a couple of Foster City teens harnessed the power of technology to ease the process.
Sam Mendelson and Daniel Stoiber, seniors at d.tech high school in Redwood Shores, wrote a computer program which automatically scours the government's vaccination appointment system and tweets notifications when dates are available.
By following the @CovaxSF account on Twitter, those wishing to get vaccinated can find when and where shots are available, how many appointments are open and what type of vaccine is being offered.
The free service also provides a link to the MyTurn website, where eligibility and appointments can be confirmed. The creators recommend Twitter followers turn on notifications for the account, so alerts are received each time a new batch of appointments become available.
"We thought it would be really useful," Stoiber said, regarding the inspiration to write the search bot.
And it has been, according to Mendelson, who said his parents were able to use CovaxSF to find an appointment. Since then, he said the program was shared on social media platform Nextdoor and dozens of others used it to get vaccinated as well. The account itself has roughly 400 followers just days after its creation, which the creators said is an indication of its appeal and usefulness.
In a typical day, the CovaxSF account will tweet between 20 and 30 times about the availability of hundreds of appointments offered by government agencies at mass vaccination sites in San Francisco, Santa Clara, Contra Costa and Alameda counties. Tweets are also sent each time a site runs out of appointments. CovaxSF is set up to track appointments in San Mateo County as well, but the county has not hosted a mass vaccination site since it was launched.
Beyond helping those struggling to get their first appointment, Mendelson said CovaxSF has also allowed some users to avoid long trips they had planned to get a shot. In one case, he said a user who was able to find a local appointment and cancel their previous plan to drive two hours away for the vaccine.
Stoiber said he expects most will be able to find an appointment within the first day of using CovaxSF.
For Mendelson, CovaxSF simplifies a potentially confusing and frustrating process while also freeing up time for those disinterested in frequently checking for vaccine availability.
"Who want to sit and check MyTurn all day? What a waste of time," he said.
The creators said they did not design the bot to search private pharmacies such as Rite Aid, CVS, Safeway and Costco for appointments because they have seen other programs already providing that service.
While the program has been effective for select users since its launch earlier this week, the creators expect CovaxSF will be particularly useful when eligibility restrictions are lifted April 15 and the application process becomes more competitive.
Mendelson said the search bot took about one hour to design, and the two have spent another 10 to 15 hours refining it since.
The two friends grew up in Foster City and both attended Bowditch Middle School, where Stoiber said his passion for programming blossomed. Over the years, they have designed a variety of applications and programs that positioned them to try and help their community's response to the public health crisis.
With their high school graduation approaching and sights set on starting college next year, Stoiber admitted that self interest partially motivated their decision to design the program helping people get vaccinated.
"As students who are going to college, we would really love to see an in-person college experience and this is definitely a way to get to that," he said.
Visit https://twitter.com/CovaxSF to track available appointments.