Computer chip shortage, lingering COVID affects economic recovery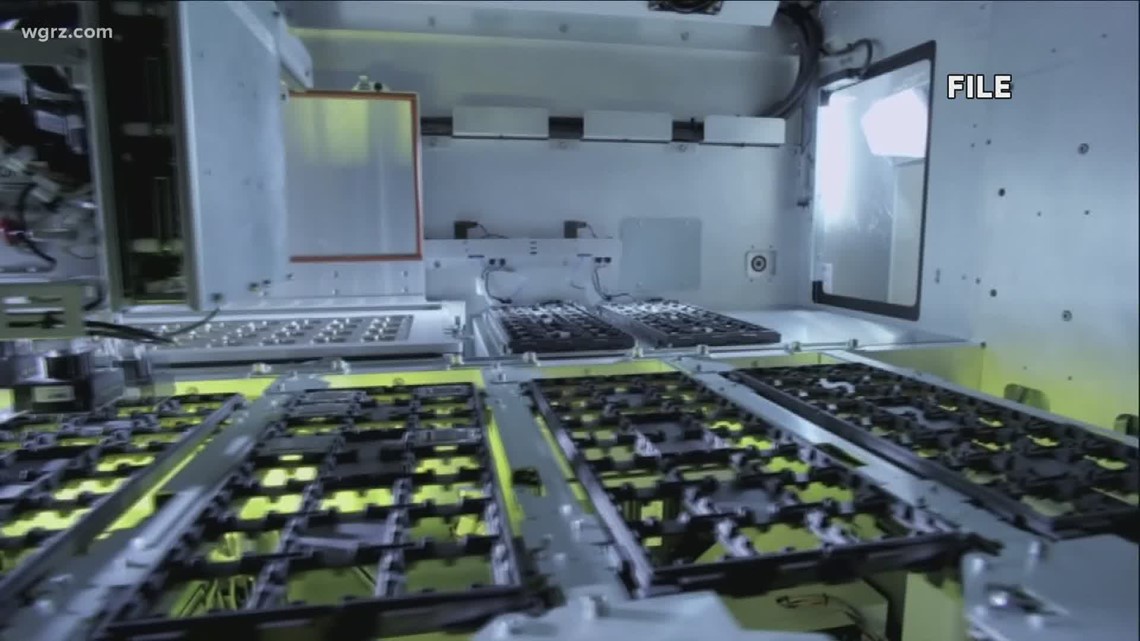 BUFFALO, N.Y. — If you're in the market for a new car, or an appliance or a new computer, be aware that the availability and price may be affected in the weeks to come. 
That's because of a global shortage of those computer chips, which power all of those electronic components in our vehicles and devices. Some observers say it affects the supply chain and our national economy. 
Just like COVID affected factory production lines and supplies of big ticket items like appliances last spring and summer, now in part it's responsible for a worldwide shortfall of those electronic brains in devices like computers and especially cars. 
 And industry experts say computer chips or semiconductors may have been hoarded as well to power all those new cell phones, laptops, and gaming machines in demand with the stay at home pandemic. It's especially hitting the auto industry and local dealers as vehicle supplies get cut with less assembly production since those chips control so much in our extremely wired vehicles these days. 
Paul Stasiak is president of the Niagara Frontier Automobile Dealers Association and he points out, "These are moving computers in these vehicles now. They're no longer mechanically driven. You know we talk about electric vehicles and in the present – there's a lot more electronic components in these vehicles now rather than mechanical."
Stasiak adds that production has been cut in varying ways by car and truck manufacturers as they try to adjust to a lower supply of the miniature electronic brains for vehicles.
"Some of the manufacturers made a decision that they're going to close their plants until there's availability of chips to be building the vehicles," Stasiak said. "Other manufacturers took a different approach. They're gonna build the cars as far as they can go, wait for the chip and add that chip later."
Union sources tell us so far the GM Engine Plant in Tonawanda is not affected. A spokesperson says she has no information yet on the Ford Stamping plant in Hamburg, but we know those parts are used in final assembly in plants in Canada and elsewhere and "that's where the company focus is right now."
Stasiak says he got additional reports from Automotive News that "Ford Motor Co. on Wednesday outlined another series of plant shutdowns due to the global semiconductor chip shortage, with five facilities in the United States and one in Turkey affected. The No. 2 U.S. automaker did not outline how many vehicles would be lost in the latest actions, and reiterated it intends to provide an update of the financial impact of the chip shortage at its quarterly earnings on April 28."
As a result, Stasiak expects the new car market will probably tighten, "In the next 60 or 90 days a dealer that would normally get 100 cars a month to replenish his stock may only see a third of that or 40 percent of it. So what they're educating their consumers on right now is to order your car early. If you got a lease turning start looking at that replacement vehicle now. Don't wait for the week of or month of. If you got a vehicle that you got your eye on you may not get the color or equipment you want if you don't plan accordingly."
Overall on the factor of chip production Stasiak says, "They talk about manufacturing. Obviously we do not have a large chip manufacturer in the United States like they do in the Asian markets."
In fact CNBC reports more than 80 percent of those tiny sophisticated chips are made overseas in Taiwan and South Korea.
And with concerns about rising tension in Asia with China, this chip shortage prompted a White House meeting this week between top executives and President Joe Biden who wants to boost and secure the domestically produced supply of chips. 
The president said, "Our competitiveness depends on where you invest and how you invest."
The federal government wants to pump an additional $50 billion into U.S. based semiconductor manufacturing in the proposed infrastructure measure and push more efforts with a separate Chips for America Act. 
Intel is already spending $20 billion to speed expansion and construction of new or existing "fabs" or fabrication plants in Arizona and elsewhere. Even the state of New York has tried to help jumpstart production with the planned new GlobalFoundries plant in the Malta in Dutchess County.
And Genesee County has been trying to lure South Korea-based Samsung to build a chip production plant in its STAMP manufacturing complex. But that project faces stiff competition from other Southern states. 
In the meantime COVID and the chip crunch are still hitting automakers and our overall recovering economy. Stasiak says it's difficult for businesses to pick up from the pandemic. 
"You can't produce things remotely," Stasiak said. "You need a factory to do that. Then you went to 25 percent workforce, Then you went to 50 percent workforce. So that implication of re-ramping is gonna have an adverse effect on supply chain."