City outlines school recovery plan | Queenswide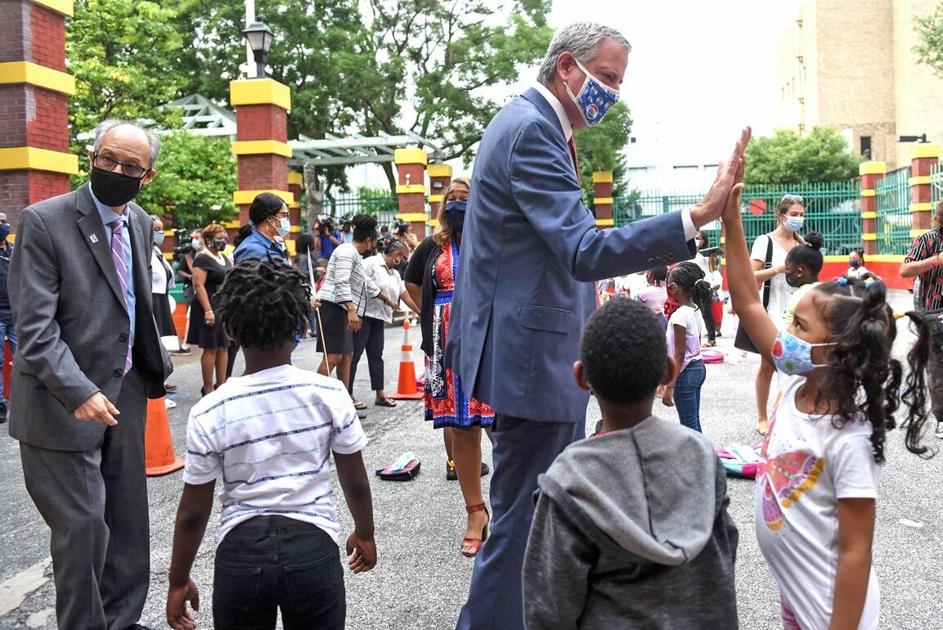 Mayor de Blasio and Schools Chancellor Meisha Porter detailed a new, $635 million post-pandemic school recovery plan last Thursday that promises significant changes for public school students.
The announcement provided concrete plans for how the officials will spend the infusion of federal stimulus funds earmarked for schools.
A central focus of the plan will be on literacy, with ambitious goals like reducing elementary class sizes and creating screens to test reading levels. The initiative will also contain technology policies, a culturally responsive curriculum, special education resources and college and career counseling.
"The focus now is on doing unprecedented things to close that COVID achievement gap, to get our kids in a strong place for their futures, to catch up for the time we lost and then surpass," said de Blasio at a press event last Thursday.
The DOE will invest $49 million in literacy initiatives in the next year's budget, and with that set a goal of all students reading on grade level by the end of second grade. The effort will involve screening and intervention for students in kindergarten through second grade. It will also involve class size reduction in 72 higher need elementary schools by means of hiring around 140 teachers and increasing Universal Literacy reading coaches to around 500 citywide.
Though de Blasio called the literacy campaign the foundation of the recovery in his press conference, the highest level of spending in the new initiative will go to special education at $251 million for fiscal year 2022.
The Academic Recovery Plan will make every resource available to better support students with Individualized Education Programs, plans that detail specialized services, he said. The effort comes after Department of Education data came out over the winter that showed that close to a quarter of all students with disabilities were not receiving their full program services — a trend worsened by the pandemic.
The funding plans will involve creating afterschool and Saturday programs to provide the services that IEPs require, adding 800 preschool special education seats by fall 2022, expanding committees on preschool special education, instruction to help students 21 and older receive a diploma, exit credential or career advice and expanding family workshops.
The second-largest chunk of funding — $202 million — will go to the DOE's proposed Universal Mosaic Curriculum, a form of culturally responsive course of study that will address a diverse range of histories, languages and experiences. Porter said that it would involve an infusion of about 9 million new books for students as well as new training and support materials for teachers.
"So, this isn't just about purchasing books. It's about purchasing books, developing materials, creating units, creating lessons, and taking away that work from teachers of looking for diverse curriculum, looking for diverse texts and saying, we know we need it," she said during the press event.
As part of $122 million in digital literacy spending, officials said the DOE will distribute an additional 175,000 devices to guarantee that every K-12 student who still needs one gets it. It will also expand its Computer Science for All program to 400,000 students by 2024 and train over 5,000 educators in advanced computer science.
The plan will also spend $10 million on college and career readiness including free afterschool counseling, financial aid guidance and 48 new remote AP college-prep courses.
Michael Mulgrew, president of the United Federation of Teachers, said at the press conference that he supports the city's plan, and agreed with the way that it had structured the spending.
In the wake of the announcement, the mosaic curriculum served to elicit the most divisive responses among education advocates.
"This is a huge win for parents and students across the city because we're finally getting a curriculum centered on the history and voices of Black, brown, and immigrant communities," Queens public school parent and member of Make the Road New York Lucia Diaz said in a statement. The group has called for a more culturally responsive curriculum in recent years.
On the other hand, Parent Leaders for Accelerated Curriculum and Education NYC, an organization that has come together in resistance to the city's attempts to change its specialized education programs and admissions, criticized the DOE for overspending on the mosaic curriculum by choosing to design its own curriculum and not providing enough concrete details.