C-I prepares students for job opportunities through Career Technical Education program | Free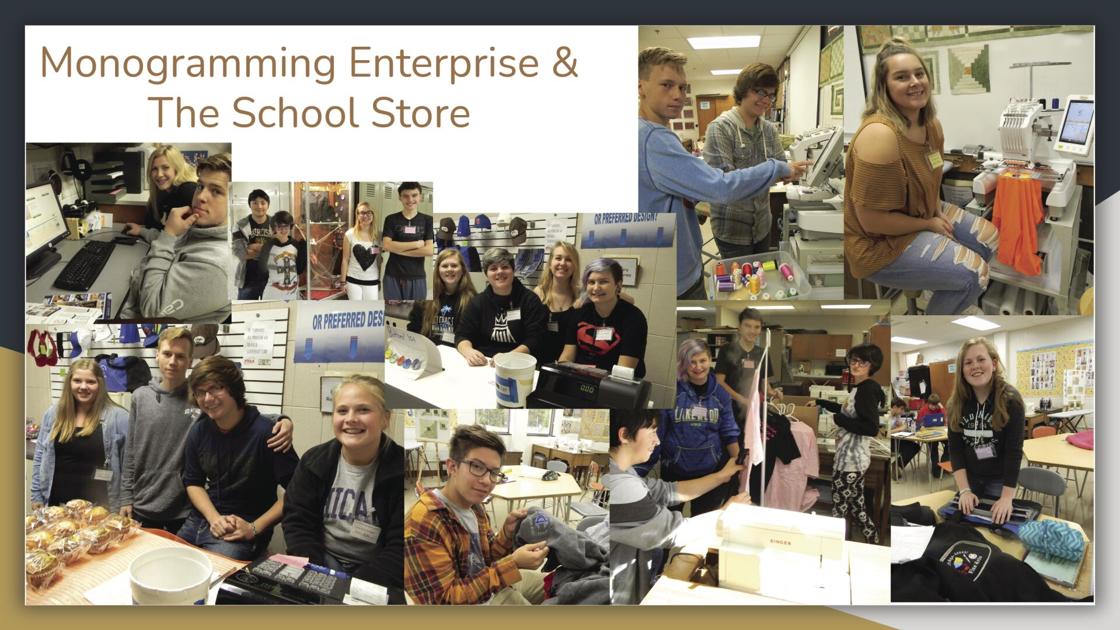 We hope all our readers enjoy this story, but our subscribers help make this reporting possible. Please consider supporting local journalism by subscribing to the County News Review by clicking here or calling 763-712-3544.
Providing opportunities for students to begin their careers following graduation is one of the goals of the Career Technical Education program at Cambridge-Isanti High School.
The CTE program provides students with the academic education, technical skills, knowledge and training necessary to succeed in future careers and to become lifelong learners.
The CTE program consists of hands-on learning, relating to careers, life skill development, being relevant and timely, and partnering with local businesses and industries.
"The people behind me provide incredible opportunities to explore a wide range of options post high school," CIHS Principal Steve Gibbs said during the school board meeting March 25.
Gibbs read an email he received from a 2020 graduate thanking welding instructor Greg Doom for introducing him to welding, and explaining he joined a union welding group straight out of high school due to Doom's teachings.
"Now that's one of the individuals behind me, but I get those types of emails all the time and I get those types of emails quite often from our Career and Technical Education department, because those kids go in and they are contributing members of our society the moment they walk across our graduation stage. There's a lot of pride in that department.
"When you walk into those areas of our building, those kids are working with their hands, they're smiling — you can see it with their eyes these days — and they're just enjoying doing school. And it's just an active, active class. One reason why I think we're so successful in our Career and Technical Education department, well, I know, is our staff. Our staff are very passionate," Gibbs added.
Katie Soler, who facilitates the CTE program, is in charge of the programs, partnerships and initiatives. She said the CTE program is focused on building and offering programs that are high skill, high wage and in demand. She said the CTE program offers 53 courses, with 10 courses that are offered for college credit.
"We have programs of study that are built so that they ladder up, so kids get the foundational skills and then they can move up skill-wise to that point where they're getting that vocational training," Soler said.
Soler said the program also has a strong work-based learning program that is continuing to grow so students can come to school but then transition those skills right into the workplace. She said the CTE program also partners with Anoka Community College, St. Cloud Technical & Community College, and local businesses and industries to offer credits and programs the district can't offer in-house.
"We are always looking at our programs under a lens of equity," Solder said. "So how we can reach all kids — whether they're male, female, whatever their race, whether they're special ed or high honor student — 'we're trying to meet everyone where they're at' is the lens of equity."
Jerry Jensen explained the family and consumer science education department covers life skills encompassing family, work and interpersonal, career readiness, and social emotional learning.
One of those classes includes a teen survival class. Melissa Carstensen explained the teen survival class focuses on careers and values; postsecondary school options; communication in healthy relationships; recognizing abusive and dangerous relationships; and sexuality.
Jensen, who teaches a lot of the culinary arts classes at the high school, explained the classes are designed to teach students about cooking skills, nutrition, pathways to a food service career, and teamwork and working together.
Carstensen explained another component of the CTE program is education. She said the district offers a child development course for students interested in careers which draw on the knowledge of children, child development and nurturing of children. She said the district also offers an early childhood education course that prepares students for employment in early childhood education and related careers that involve working with children from birth to third grade.
"With the early childhood education, our kids go right into our elementary schools and work with teachers, and so they're getting their hands-on training right now," Soler said. "The Foundations of Education is an intro to teaching course for students interested in education. That's an Anoka-Ramsey Community College Cambridge Campus course that we're hoping to offer in our high school, free for kids that are interested in getting college credits."
The CTE program includes a monogramming enterprise class that helps with running the school store.
"That is something we're very passionate about. It's been a vital resource that hasn't been able to be active, but we are going to be opening up our school store and following the guidelines of that guidance and we're very excited about that," Carstensen. "They're also going to be developing their own personal business plans, and so they're going to be helping run the store and ordering and working on that."
Carstensen explained another course involves the school garden, which is a partnership between the high school, Isanti County Public Health, Isanti County Master Gardeners and the Isanti County Lions.
"They grow produce during the summer. We have the students go up in the spring and plant and get the garden set up. We have wonderful volunteers during throughout summer that help keep and maintain the garden," Soler said. "The produce, some of that comes back to the school, can we use it in our FACS programs, and the remaining of it is donated to local donors in the community such as the food shelf, the Senior Activity Center Cafe and other partners that we've connected with in the past."
Greg Doom teaches the welding courses at the high school.
"We have a really good welding program at the high school and it's honestly probably one of the best ones for high school in the state of Minnesota," Doom said. "It's a very strong welding program, and part of the reason it's so good is we have a really good facility and it's yearlong class and we have a lot of support from administration to make that work. So at the end of a full year of learning welding, the kids have skills that can get them a job right out of high school. A lot of kids take a certified welding test and can pass certification welding exams, and so these are really talented students right out of high school, and so we're very proud of it."
Doom mentioned the students also get college credits out of St. Cloud Technical & Community College if they want to attend college following graduation to pursue an associate degree. He said the welding students also compete against other schools through the SkillsUSA Championships.
Doom explained Bernie Volesky teaches the woodworking programs at the high school.
"It's kind of a nice blend of old-fashioned technology but still new technology," Doom said. "When kids leave the woodworking program, they have good skills for jobs in the construction industry or cabinet making and things like that. And there's also a class called construction trades where the kids build a shed that they actually sell in the community. And again, that's a class we're very proud of and it's a great asset to our community to have those programs."
Melvin Winberg, who teaches the engineering and automotive classes, spent over 21 years in the industry.
"The jobs are out there that pay very well with just the hands-on experience without the four-year degree. And I guess that's the reason I'm here, to teach my students the stuff I've learned over the past 20 years. And when I can see a student rebuild an engine and put it together. … That means everything to me in the world to see that kid take that engine apart and get it running," Winberg said. "Some of the facility stuff that we have with the tooling is second to none. I've worked at three different dealerships and we've got some very, very high tech equipment that we use in the auto shop that can scan tools and show the kids that they can manipulate things on the car just by touching a computer screen."
Gibbs noted the CTE program also offers a class for exploring health care careers as well as a medical terminology class.
As for business offerings, Gibbs noted the high school offers classes in accounting, computer applications/digital citizenship, human relations, introduction to business and finance and personal money management.
Marketing classes include marketing, personal and business law, starting your own business, sports and entertainment marketing, work experience/on the job training, advanced marketing and marketing internships.
Computer offerings include information technology exploration, IT support specialist certificate thorough a partnership with Anoka-Ramsey Community College, web design and video game design.
All of the CTE teachers and Gibbs thanked the school board for their support.
"Again, we really appreciate your support. We are not able to do things that we are able to do without the board saying this is good for our kids. A lot of people ask me what do I think separates Cambridge-Isanti High School and I think first and foremost, we have some of the most caring, compassionate and kind adults I've ever worked with in my life. It's a privilege to serve with them, but also, we have incredible offerings that kids get to choose that is in the Career and Technical education area," Gibbs said. "So what separates CIHS? Our staff and then the opportunities for elective choices that our kids have and they are truly preparing them for whatever they choose to do post high school, and I think we are truly changing the narrative and truly serving every student, every day, depending upon what their interests are, what they want to do post high school. Their plan is important, their plan is personal, and we want to support that plan fully."